Earlier this week, I took Zuzu to a reading by the children's author/illustrator Oliver Jeffers. He's doing a tour for his new book,
Here We Are
, which he wrote for his baby son and really makes the perfect baby gift.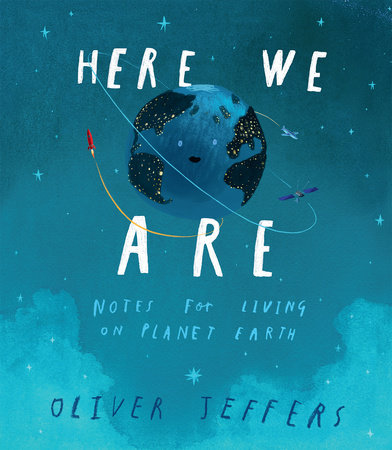 I fell in love with his work when my friend K gave Zuzu a copy of
The Heart and the Bottle
in memory of Eliza a few years ago in December. I wrote about it
here
.
Since then, we've collected and gifted several Oliver Jeffers books, so I was excited to take Zuzu to see him, although I for some reason I only brought along
The Heart and the Bottle
for him to sign instead of bringing our full collection (I'm still kicking myself about that--I love
The Incredible Book Eating Boy
and
A Child of Books
may be my second favorite and I'd love to have our copies signed!). I tried to make up for it by purchasing a few more books--Zuzu got to choose one for herself (she chose
The Day the Crayons Quit
) and we picked up a copy of
Here We Are
for my niece and one for Coco (it's seriously so cute) and Zuzu chose
Lost and Found
to donate to her school.
I didn't think Coco was old enough to appreciate the event (good call on my part) so she stayed home with D. Zuzu and I ate a quick dinner and drove out to the library.
My friend K had saved us seats, but the children were invited to go down to the front and sit on the floor so they could see. Jeffers used an ipad to draw and illustrate as he talked, and it was funny. (A highlight for Zuzu was when he had a little girl stand up very still so he could draw her portrait and then he drew a reindeer.)
We'd never been to this place before and K's kids weren't there, so Zuzu didn't know any of the other children. She became shy and said she didn't want to leave my lap to go sit on the floor with the other kids. Another woman I've become friends with more recently was there and she asked Zuzu if she wanted to sit with her daughter.
Zuzu agreed, and I watched from my seat as a little girl (whose name happens to begin with E) took Zuzu under her wing.
My big brave kindergarten girl, who will speak confidently and assertively with virtually any adult, who will fearlessly dive backwards off a diving board, who leads, coaches, and bosses her little sister, just needed a buddy to sit next to in a crowd of unfamiliar faces. She settled right in next to this little friend and giggled her way through the reading.
It made me realize that I see Zuzu so often in her comfort zones of home and school, that I forget that she has moments of feeling bashful and uncertain, and I really appreciated this other little girl being so kind and making Zuzu feel comfortable.
After the reading, we were in line for the book signing and we talked with this little girl and her mom. The girl asked Zuzu how old she is. "Five!" Zuzu answered, "I'm in kindergarten."
The girl told us that her brother is also five, and then I asked how old she is.
Looking at her, with her sweet round face and those big-kid teeth she hasn't grown into yet, I think I was anticipating her answer, but somehow it still made me catch my breath.
"Seven."
Seven years old.
Seven years.
We're doing okay these days, but you know what I think my five-year-old needs sometimes?
A seven-year-old sister.