Have you seen this poster? I think the first time I saw it was when it popped up in my FB feed, but it's available from several different places, including
this etsy seller
.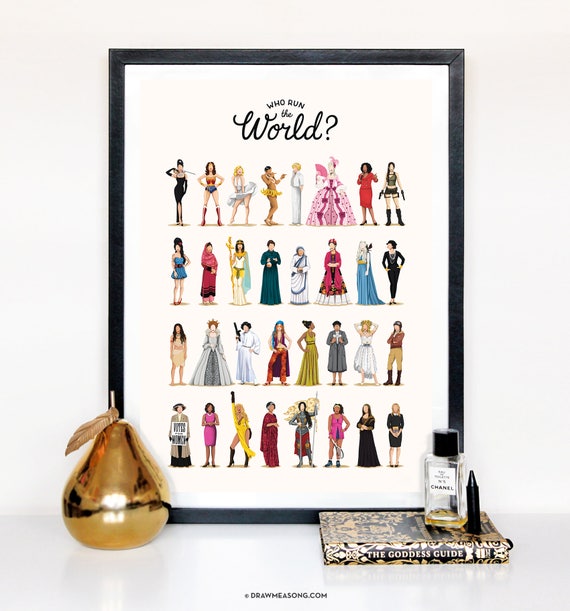 As you can see, it's a collection of images of a bunch of different women--most real, some fictional, and they are pretty recognizable even though their faces are blanked/blurred out. It's a wide variety, from Oprah Winfrey to Marie Curie to Mother Theresa to Amelia Earheart to Madonna to Joan of Arc to J.K. Rowling. I knew
almost
all of them, but this video will clarify if there are a few you can't quite place:
I ordered the poster for Zuzu's room because I was certain she would like it, and because obviously I like the idea of her seeing a wide variety of female role models. She already knew several of them from this book:
The book features short, one-page biographies of 100 extraordinary women. It's weirdly alphabetized by first name, but if you can get past that organizational hurdle, it's pretty great. What surprised me is how much my kids are into it. Their favorite story is Misty Copeland, which Coco calls "broken leg!" (if you weren't aware, Misty Copeland fractured her left leg in multiple places the first night she danced as a prima ballerina, and she went through extensive rehab to come back and continue her dance career). They want to hear that story over and over again.
I'm working on getting things up on the wall in Zuzu's room, and I let her select the placement of the poster. She chose a spot where she can see it from her bed. We talked about several of the women on the poster. I talked a lot about Rosa Parks in the context of peaceful protests, and she asked me about Lady Diana (she likes the tiara).
Then I mentioned that it might be fun to dress up as one of these women for Halloween, and I asked her which one she might like to be. I was expecting her to point to Marie Antoinette, because the princess dress is still pretty appealing to Zuzu, or maybe Wonder Woman because the superhero theme is popular at school.
But my little Zuzu pointed at
Amy Winehouse
and said, "That one!" (For reference on the poster, she's the second row, far left. Short blue dress, red high heels.)
I was pretty surprised, but I just said, "Oh, really? Well, she's a musician. Very cool. I like her music. Why do you like her best?"
Zuzu said, "I like her tattoos. When can I get some of those?"
Thirteen years, my friends, and I will be fascinated to see how Zuzu expresses herself through body art.
Also, there's a part of me that thinks it would be kind of awesome to get some temporary tattos and have my five-year-old dress up as Amy Winehouse for Halloween, but I think we're going to stick with one of the many other alternatives she's already mentioned... fairy, mermaid, rainbow unicorn... We'll save talented singer/songwriter who met a tragic and untimely end due to alcohol poisoning for another Halloween, perhaps.
P.S. Coco's favorite woman on the poster is Daenerys Targaryen (second row, second from left--next to Coco Chanel), which would also make for an amazing Halloween costume for a three-year-old with a pixie cut... She said, "Who is dat?" and I said, "That is the Mother of Dragons." Coco said, "I yike her." I think she just thinks Daenerys looks like Elsa.