My aunt Beth (the great) wrote me a note a few weeks ago about embracing hygge in this time of political anxiety, and it's something I've been thinking about a lot. There is a danger to turning off and tuning out the news just because it makes my chest feel tight and strained. Only people in positions of privilege can afford to ignore what's happening, and it doesn't mean that we should. So I'm trying to strike the balance between staying informed and freaking the eff out. I'm working on showing up and donating money to causes that are fighting for the things I believe in (this week, this, and this) (and not even big sums of money--I'm convinced that a little bit helps and that if we all gave $5 to the causes we believe in, we could do amazing things).

And I'm also doing some hygge work at home. Lighting scented candles, putting a tablecloth on the table, buying a new floor lamp for the living room to replace the one I've never liked very much, just creating a warmer, cozier home that can at least provide some creature comforts in the face of news that leaves me feeling powerless and confused (I mean, seriously. What is happening?)

So here are some things that are making me smile at home when I turn off the news feed and settle in for watching West Wing. #martinsheenismypresident

This felt food from Farm Fresh Felt Toys: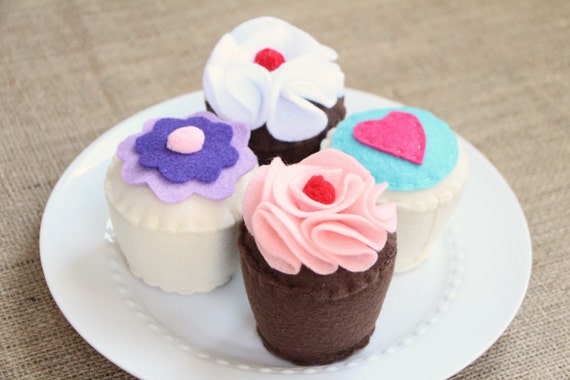 The whole shop is adorable--I'm also obsessed with the ravioli and farfalle pasta--I think my kids would love "cooking" with the pasta (though I can also imagine tiny pieces of pasta showing up in random places all over my house). I first happened up on the shop when searching for a donut ornament for Coco for Christmas, to commemorate her donut-themed party when she turned one (I am following my mom's tradition of getting my kids an ornament every year that reflects their interests or hobbies, but I realized that I didn't get anything in 2015, probably because that December was another difficult one for us). Anyway, the donuts are super cute and I've just ordered the eggs to put in their Easter baskets.

DoTerra OnGuard foaming hand wash
I love this. the smell, I love the foaming action. The dispenser is certainly not the cutest one in existence, but it gets the job done and it's not breakable. The previous dispenser we were using had a lid that pushed down and fit really snugly, so I never imagined it being a problem, but when it got dropped off the edge of the sink (not once, but twice), the top popped off and handsoap exploded all over the wall/vanity/floor/toilet in our bathroom. There are worse things to clean up than soap, but it still took a lot of towels to get the residue all cleaned up. This is lightweight, not breakable, and something I feel good about my kids using, so I'll happily tolerate the dispenser, even if it's not designer chic.

Also, I'm on a little bathroom refreshing kick upstairs, so stay tuned for my reveal of a couple of simple changes that are making me happy.
This book was included in one of our We Stories sets. The words are just okay--sometimes the rhyme feels a little forced--but the pictures are adorbs. I love the mixed families, that it shows kids in wheelchairs playing at the park, and lots of adorable babies. (Coco loves looking at the babies.) My favorite thing, though, might be that it features a couple of moms who have visible tattoos. Think about it--have you ever seen a children's book that showed a mom with a tattoo snuggling a sweet baby? I love it.

Mermaid swimsuit
I did not love Gap's swimsuit offerings last year--it seemed like a lot of animal heads growing out of crotches (wow, that visual sounds much more disturbing that it actually was, and I REALLY hope that's not a search term that gets someone here). Anyway, this year I couldn't say no to a mermaid swimsuit, and I'm *really* hoping that the introduction of this suit will allow me to phase out the well-worn and much-loved Ariel swimsuit that my friend Molly handed down to us.

I'm such an essential oils dork, but this thing has been a neat bedtime trick. The girls watch the light show and using lavender oil or a blend for "sleepy time" makes the room smell yummy and soothing. It's become a great little nighttime ritual. (And you can't beat the price of that one for less than $20, but I like the look of this one also).
Okay, so those are a few of my favorite things. Now I need a recommendation. Anybody have any really good kid mittens? Waterproof is not essential, but I'd like them to be warmer/more substantial than the tiny stretchy ones you can buy at Wal-Mart for $1 a pair. They can't be too bulky (like ski mittens) or my kids refuse to wear them. I'm SO READY for mitten season to be over, even though it hasn't been a very cold winter at all. It's just such a hassle and my kids completely strip down to get in their car seats (well, not to nakedness, but no jackets, hats, or mittens) so things get lost in the car between home and school even if we have everything when we walk out the door--it's maddening! So, bright-colored, warm, not-too-bulky mittens that aren't crazy expensive but are worth keeping track of. Anybody?